if you know something that might also find its place on this page, please write me a letter.
---
The Band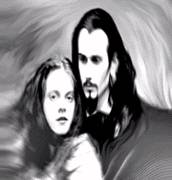 After Requiem In White broke up in 1995, Lisa Hammer and Eric Hammer started work on their new project - "Mors Syphilitica". They are the only musicians in the band (though it didn't suffer from it ;)), and do all the work themselves - even the cd cover painting and graphics were made by Eric alone. Among other good things is that at last their photo appeared inside the cover and now we can see their faces. Again, the problem is the same as with Requiem In White - absolutely no information on the band in the internet, except for rare mentionings at few pages, so this page is in the very rudimentary state and obiously will need updating. As to the albums, to my knowledge Mors Syphilitica for now has one CD, which has got no title on it, so I suppose it should be referred to as "Untitled". Whatever the reference, my review can be seen below.
---
CD Review


I must admit that I at first, the Mors Syphilitica's album was a dissapointment to me: I loved Requiem In White a lot, and I have expected that in the Hammers' new project I would find as much innovation and originality as I found in R.I.W. But... Dissapointment struck me when I've listened to the "Untitled" for the first time - it was good old R.I.W. under the different title. The sound remained absolutely the same, the melodies, instruments, voice also are hardly different from the R.I.W. However, after I listened to the cd for couple of more times I began to like it. Not only that I was a R.I.W. fan and this familiar sound was pleasant for my ears, but also I have heard some new features which bring the Mors Syphilitica's music further in comparison to Requiem In White. Lisa's voice is excellent as before, but now more choire is used and this sounds very impressive. Generally, the music became slower and more "symphonic" so to say. Eric's skills as a guitar, bass and drums player do not differ much from those of the departed R.I.W. members, and this gives the instruments a familiar sound, though the drums are much more quiet... But my favourite Cure-esque bass is still the same!! Lyrics by Eric Hammer is also great, I am going to put it on this page soon, so you could decide for yourself. As a bottomline, I could really recommend this album as a very good one. It will be especially appreciated by the R.I.W. fans, but I think that all those who like the gentlier, more beautiful and melody-oriented type of gothic music will really love the first CD of new project of multy-talented Lisa & Eric Hammer!
---
Line Up (as of 1996)
Eric A. Hammer - instruments
Lisa Hammer - voice
---
Untitled (1996): tracklist
Below the Baleful Star
Whispers in the House of Truth
Dreams of the Many
Song for a Sick Child
Fell a Dance
The Vain Stroke
The Woman Who Believed
One Sad Thought
Passing Shadows
A Lullaby of Sorts
all lyrics © 1996 Eric Hammer (SESAC), music © 1996 Mors Syphilitica/The Hammers (SESAC)
---

Now it's a good time to go to my Requiem In White page.

---

Thanks to Eric & Lisa Hammer for their music.

Thanks to my cousin Alya "MopeyGoth" :-) Kourbanova, who got me to know both Requiem in White and Mors Syphilitica!

Background texture by Ben Z. Thanks, Ben!
This page is best experienced with


in your headphones.
---
all the comments on both the contents and the design will be greatly appreciated...
© 1997 wirecrawler aka Peter Pomelov-Zhilinsky -- appzhi@dol.ru
---